Choosing Your Wedding Venue
When choosing your wedding venue, first and foremost choose the type of wedding that you want as that will be the basis for setting your budget.
If you have a theme for your wedding it is helpful to pick a venue that is going to compliment the whole theme and styling. The venue that you pick will also determine how many guests to invite.
A rule of thumb is to go out and look around and book your eventual venue approximately 12-18 months ahead of your wedding date.
There are so many options out there for the modern bride ... so whatever you decide enjoy the process the venues will help to cut down on the stress of planning your big day.
Both of the following venues have been used by Matrimony UK® as locations for our featured shoots.
Hellens Manor - was featured in our Spring/Summer Issue 2020 and Peckforton Castle was featured in our Autumn/Winter Issue out in September 2020.
Hellens Manor - Herefordshire
Hellens is a beautiful historic manor house in Much Marcle, Herefordshire. A totally unique and exclusive venue for a tailor-made wedding in an idyllic setting. It has beautiful gardens, acres of wildflower meadows, ancient woodland, apple orchards, a labyrinth and a dovecote. We think you won't find a lovelier venue for your wedding ceremony and reception! You can choose between two fabulous venues for civil ceremonies. Our oak-panelled Music Room in the Manor House is licensed for 60 guests, whereas there is plenty of room for up to 120 guests in the Great Barn. With its beams and vaulted ceiling, the Great Barn is just right for you to add your personal touch – so your wedding can be as individual as you are. What's more, our beautifully renovated Georgian Stables is ideal for your overnight stay. We can provide the perfect venue and professional planning so that all you need to bring is your imagination!
For more information about Hellens Manor
Peckforton Castle - Cheshire
HEAVENLY WEDDINGS
Where two hearts entwine
At Peckforton Castle, serenity and sophistication come together to create an elegant setting for your special day. Pass through the stunning gatehouse lodge and up the long sweeping drive to a place that promises a fairytale. Steeped in history and set against a backdrop of rolling Cheshire countryside, it's an idyllic venue for your castle wedding and wedding breakfast – whether it's an intimate family affair or an occasion more grand.
For more information about Peckforton Castle
Clearwell Castle - Gloucestershire
A Fairy-tale wedding venue in the heart of Gloucestershire

Set in twenty acres of grounds, complete with a cocktail terrace and croquet lawn, Clearwell Castle is embedded within the romantic Forest of Dean and offers an enchanting venue for your wedding day.
Make your way through the forest and notice the magnificent facade, which affords picture-perfect photo opportunities. Despite its elegance and grandeur, this Gloucestershire venue is warm and ready to welcome you.
For more information about Clearwell Castle
Bredenbury Court Barn - Herefordshire/Worcestershire
If you're looking for a truly unique wedding venue in Worcestershire, look no further than Bredenbury Court Barns. Set within the grounds of a charming old Manor House, our beautifully rustic barn is the ideal place to hold your Worcestershire wedding.
From small, intimate celebrations to full-on wedding parties, this extra-special venue can be tailored to suit your vision. Bredenbury Court Barns is situated in a fantastic location, making it easy for friends and family to meet and celebrate your nuptials..
For more information about Bredenbury Court Barn
Bennetts Willow Barn -Worcestershire
ABOUT US
For a fun and relaxed wedding venue, experience your wedding breakfast in our unique and spectacular yurt marquee and its outdoor area, before moving into our brand new barn-style party room for music and dancing.
Located on our working farm, our wedding venue area includes outside spaces for you and your guests to enjoy. Let the kids (and big kids!) enjoy outdoor fairground games, whilst you sit on hay bales for a catch up with friends. Once dusk falls, enjoy the warmth of our fire pit, with marshmallows provided for toasting over the fire.
Our wedding celebration packages can include overnight and weekend glamping accommodation at our adjoining glamping site, Worcester Glamping. Let your guests make a real event of your wedding, and offer them a night or two away in the comfortable yet quirky yurts and bell tents, next door to Bennetts Willow Barn.
For more information about Bennetts Willow Barn
Glewstone Court Country House -Herefordshire
ABOUT US
A beautiful country home, made for celebrations and perfect for weddings. Glewstone has nine beautiful bedrooms, finished to the highest standard for a luxury stay and a renowned restaurant serving the highest quality local produce.
Gary and Karen Homewood acquired Glewstone Court in 2014 and since then the team has grown to include daughter Amy, and son-in-law Sam, who is now the Operations Director, supported by a loyal and highly dedicated team committed to ensuring your day runs smoothly with a professional yet friendly service.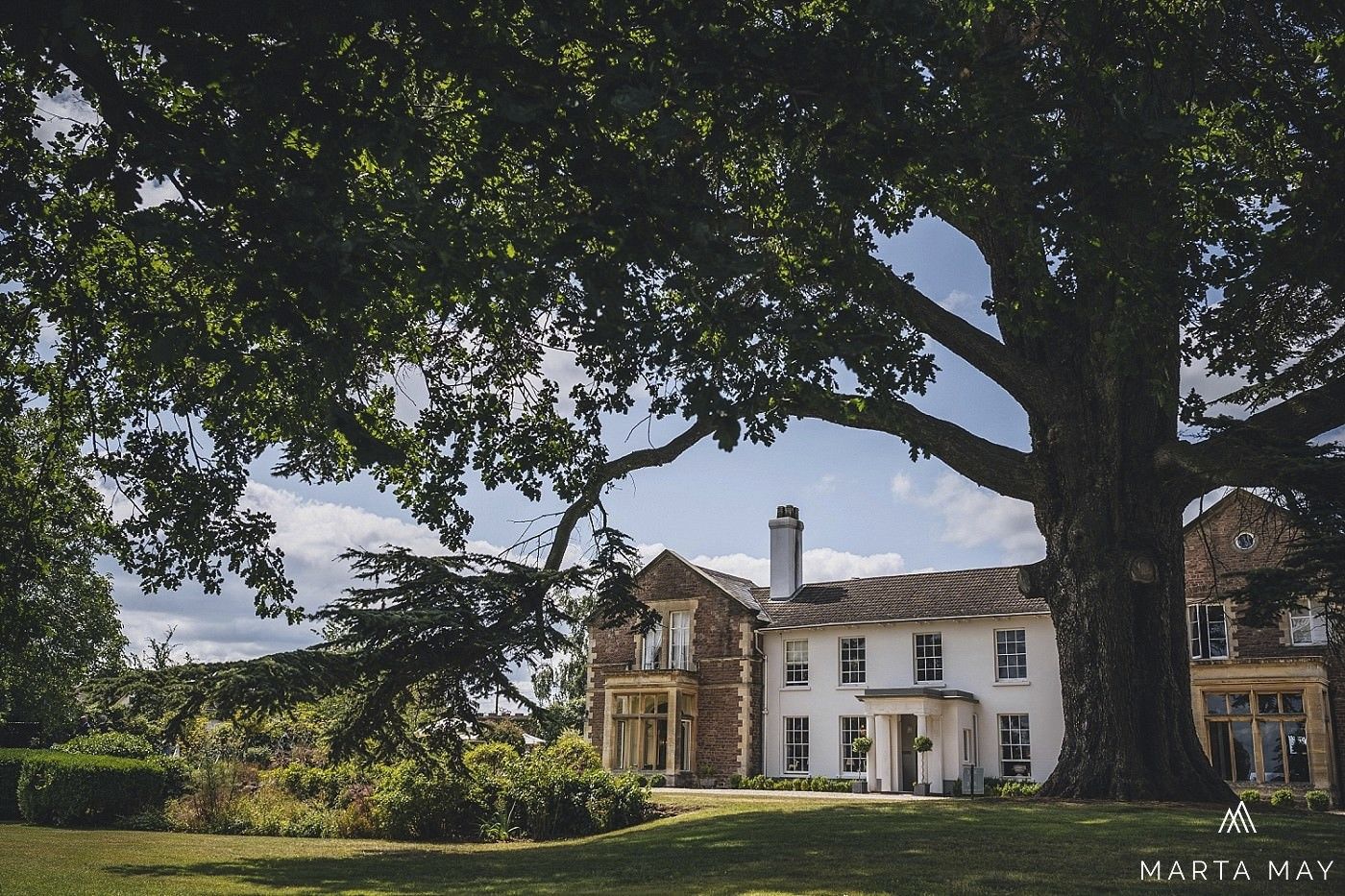 For more information about Glewstone Court Country House